The moment you hear the train's whistleblowing, you get chills immediately. That mesmerizes us back to childhood when the best memories were created by train travels. This article will hit your nostalgic train experience to provoke various emotions! Set out to explore some of the most panoramic train trips in India.
1) Darjeeling Toy Train
This toy train of Darjeeling is the most loved train journey. Families with small children will enjoy the sights from the windows of the mini train chugging along the tracks. There is only 1 train in the morning that runs on a steam engine and all others is a diesel engines. So to experience true history one needs to take the steam engine. Tickets can be booked on the IRCTC website.
2) Kashmir Valley Railway (Jammu To Baramulla)
The 356 km railway track will start from Jammu and end at Baramulla. It travels through the central earthquake zones, high altitude mountain passes, and terrain, in severe cold temperatures but still, it is absolutely worth it.
3) Goa (Vasco Da Gama – Londa)
This train passes through thick woods, bubbly waterfalls, spooky tunnels, and leafy green areas. Its path will take you through the Konkan Coast and the Western Ghats Mountains. However, the highlight of this passage is India's tallest waterfalls, Dudhsagar at Goa.
4) Poorna Express (Pune To Ernakulam)
This train between Pune and Ernakulam always makes it to the list of incredible treasures. Its duration is about 32 hours and 31 halts. Poorna Express chugs via the Deccan plains through the night. It crosses the Belgaum junction in the morning. That's when the magic begins to happen. You see several appealing falls spotted along the slopes. All of a sudden you discover the magnificent Dudhsagar falls located on the Goa-Karnataka border.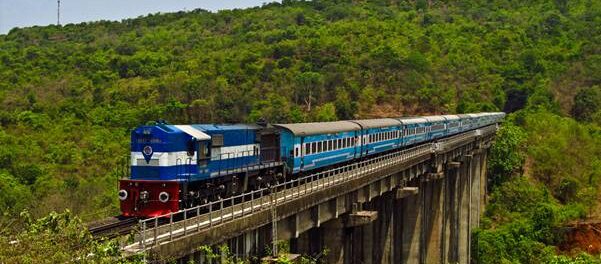 5) Golden Chariot Route: Bangalore (Karnataka) to Goa
It is one of the rather elegant trains of India. Golden Chariot delivers a peek at the southern heritage of India. This is all while enjoying the luxuries of modern life. This train takes you on a scenic 7-day journey winding through tourist favorites like Mysore, Hampi, and Goa.
6) Himalayan Queen
Shimla is now the Himalayan Queen. It begins from the far end of Punjab in Kalka. The train makes its route via hundred tunnels and thousand curves. Finally, the little meter-gauge train finally draws into the scenic Shimla railway station.
7) Nilgiri Mountain Railway
It is a steam engine locomotive and a UNESCO World Heritage Site. This is much like the Darjeeling Himalayan Railway. The train covers a distance of 46kms in four and half hours. The journey starts at Mettupalayam. A ride on Nilgiri Mountain Railway is certainly the most mesmerising way to reach scenic spots like Ooty and Coonor.
Which Is your next destination in train?
Comment below