Food is the basic necessity. Some of you are fond of food. You would be ready to travel miles away to just eat that one dish which you like the most.Food represents culture, identity, state, religion, region etc. 
Can you imagine visiting Canada and not trying Poutine. Your vacation sounds incomplete if someone later tells you that it's one of the best street foods. Exploring street food is an essential part of travelling. Let's take a look into some iconic street food served across the globe. 
1) Bhel Puri (Mumbai)
A combination of puffed rice, spices, sev, veggies, chutney and spices. It's an Indian Snack found near all the beaches. It tastes a little sweet, tangy and spicy. It is a type of chat found in a lot of streets shops across the country. 
2) Egg Waffles (Hong Kong)
Egg waffles were initially started in Hong kong and later became popular across the globe. Egg waffles are prepared by eggy batter. It is cooked between two metals plates. You can now find waffles of different flavours like Chocolate, Red velvet etc.
3) Falafel (Tel Aviv)
Falafel is made up of chickpeas and served with Pita bread. It is also topped with some salad, veggies, sauces and spices. Falafel is widely spread across the globe but the one you get on the streets of TEl Aviv edges is the best.
4) Jerk Chicken (Jamaica) 
Jerk Chicken is easily available in Jamaica. But if you want to experience the best Jerk chicken you need to go to the island because you will find food prepared over charcoal with that smoky flavour and crisp produced by the bits of meat. The meat is directly cooked on tops of the woods which gives a significant flavour affect and absorbs oil. 

5) Halo Halo (Philippines) 
Halo Halo is a sundae from Philippine. You can only see ice and milk from outside but the dish contains boiled kidney beans, sugar palm fruit, garbanzo beans, coconut, jackfruit, crushed rice, ice cream, flan, tapioca and sweet potato. Though the sundae sounds weird, there are similar sundaes served in Southeast and East Asia.
6) Espetinho (Rio De Janeiro)
Espetinho are prepared on small grills in the streets of Brazilian cities. They are made of Chicken and beef stuck on skewers. It is usually served with some hot sauce. You can also find hot dogs, shrimp, fish cubes and some non melting cheese along with Chicken and Beef.
7) Poutine (Canada)
Poutine is a canadian street food which is made up of thick brown gravy served with fries and cheese curds. To maintain the fries, the cheese curds and gravy are added just before serving the dish.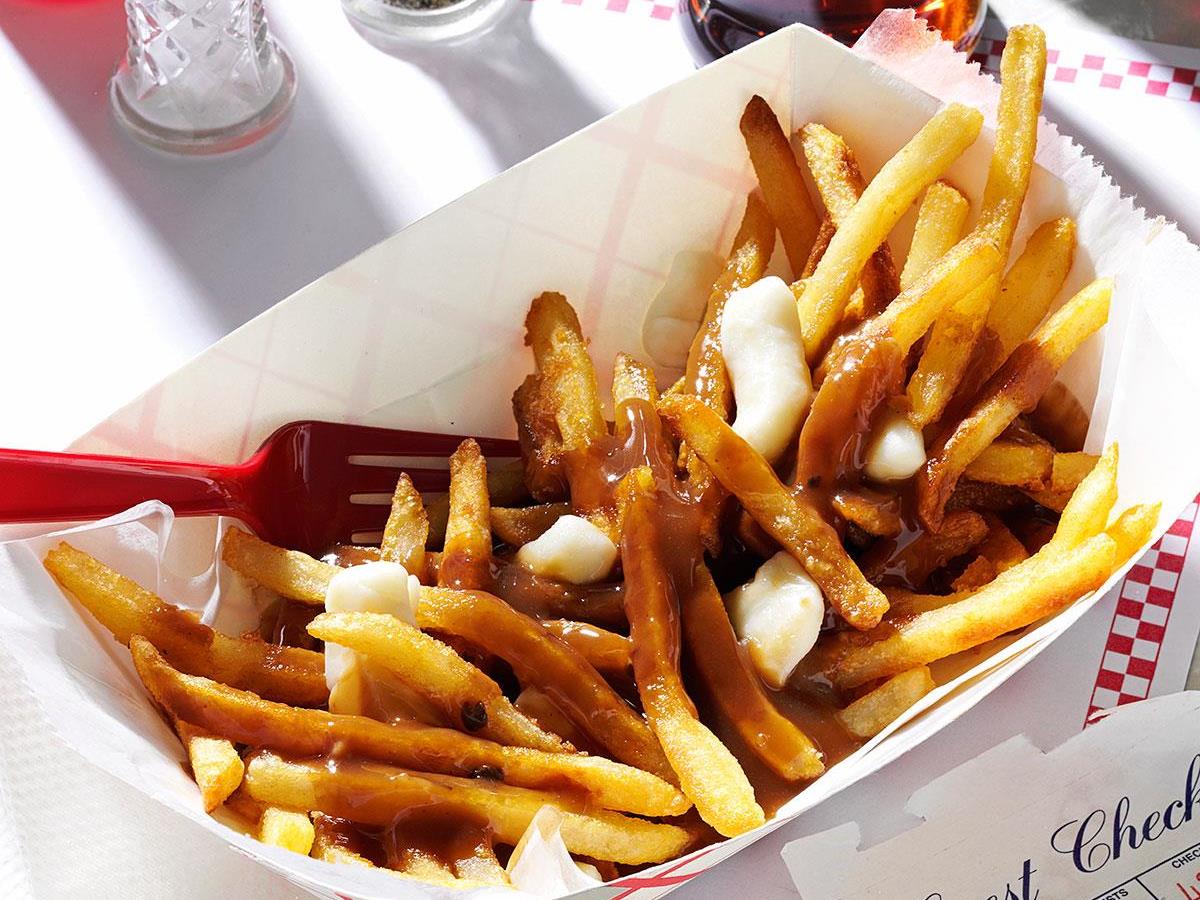 8) Crepes (Paris)
Crepes are of two types sweet and savoury crepes. Sweet crepes are  generally made up of wheat flour which are eaten with nutella, fruits, honey, cream etc. and savoury crepes are made up of buckwheat and it is usually served with bucks, eggs, meat etc. 
9) Hokkien mee(Singapore)
It is a Classic and a popular dish in southeast Asia.  It was invented by the chinese after World War 2. It consists of egg noodles and rice noodles served with prawns, pork. Hokkien mee is garnished with some veggies, eggs, sauces and later given a touch of some lime juice.