Model turned Actress Ms. Raiza Wilson, earned huge fame after her participation in the popular Tamil television show Bigg Boss Season 1, She then made a debut in the industry with VIP 2 and has been continuously working on different projects since then.
She has come into Limelight after sharing her shocking pictures on social media especially Instagram recently, showing the cosmetic surgery failure that has caused swelling under her eye and tonal difference. She completely blamed her dermatologist for going through this and claimed that she was forced to do a surgery that she did not need.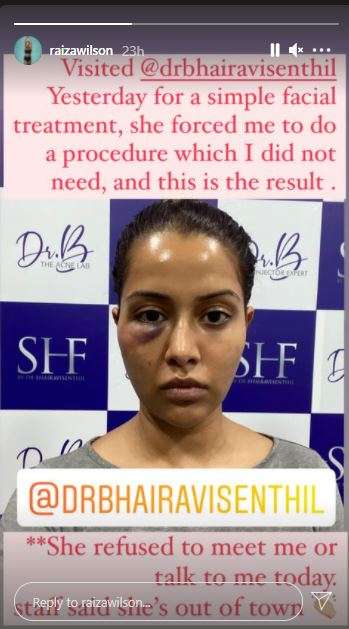 She also said that when she tried to contact the clinic, she only received a response from the staff stating that the doctor was out of town. Raiza also shared pictures of fans responding to her story mentioning their dissatisfactory experience with the same doctor.
Raiza Wilson's dermatologist Dr. Bhairavi Senthil soon responded to the allegations, she released a press note stating that Raiza had gone through this surgery multiple times before and that the patients are completely explained about the procedure and side effects of the surgery before starting. She said that these allegations defamed her clinic and that she will take legal action against the actress.