In the recent Greater Chennai Corporation (GCC) council meeting. When Mayor Priya was responding to a councillor's question, Deputy Mayor Magesh Kumar interrupted her. "What the Mayor means to say is…," he interjected on her behalf. Despite her disgust, she waited until Magesh had finished before responding. Priya is Chennai's first Dalit woman mayor, and the third woman in the city's history. Following Tara Cherian and Kamakshi Kayaraman.
The Dravida Munnetra Kazhagam (DMK), which won a majority in Chennai's local body elections in 2022. It was praised for appointing R Priya as Mayor of the Greater Chennai Corporation (GCC), which many saw as progressive. Over the previous seven months, reporters has been a regular attendee at council sessions held at Chennai's Ripon building.  And it has been observed that the Mayor is frequently patronised and infantilised by male council members. A male DMK councillor greeted the Mayor on October 31 by saying,
"Penmayil aanmayodu alum Mayor Priya," which translates to "the female Mayor who embodies the masculine strength to rule."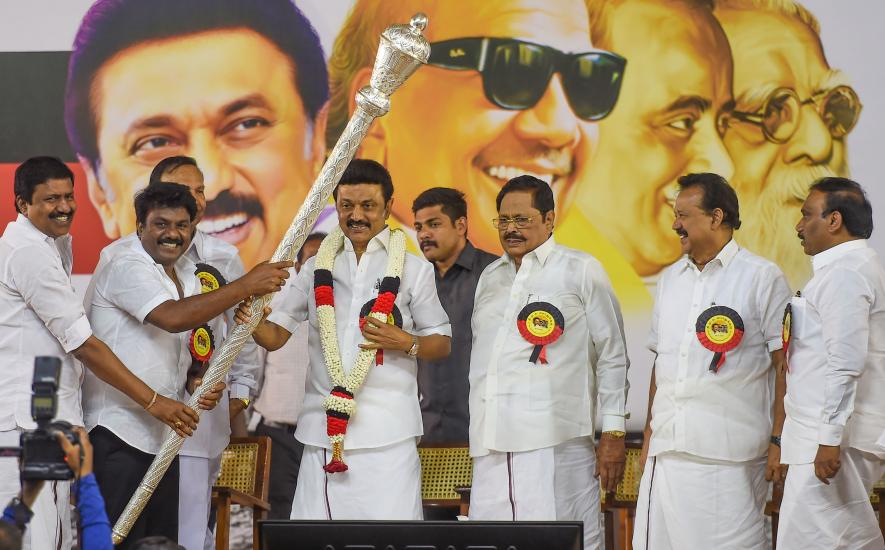 He went on to remark that she came into the council hall as a "thendral", but has now evolved into a "puyal" (cyclone). Another councillor said at the same meeting, "Mazhalayin saandraga thigazhum Mayor,".  hWich translates as "Priya's face is an example of child-like innocence."
While these ostensibly 'harmless' statements earned a smile from most councillors, with some even breaking into applause, they are chauvinist in character. The DMK councillor's remark about Priya exhibiting masculine characteristics normalises the gloomy notion that political positions are tailor-made for men, and women are, at best, an outlier in such situations. Such remarks foster gender polarisation and the notion that women can only gain respect in the workplace if they are "man enough."
A Priyadharshini, CPI(M) councillor from Ward 98, told TNM that such sentiments are unacceptable. "By saying 'aanmai' (masculinity) and comparing it to 'aalumai' (ruling), he was indirectly implying that power by default lies with men, which is an unacceptable statement." She went on to say, "In these addresses, if you note how they greet the Deputy Mayor Magesh Kumar, they often use words like 'veeram' (valour)."
Infantilizing a woman, especially in the job, implies that she needs someone to care after her like a kid, meaning that her decisions cannot be trusted. This cannot, however, be limited to gender, because for a woman like Priya, who is burdened by both her gender and her caste identity, such statements amount to casteist behaviour, determining who has access to power and who does not.
Priyadharshini further stated that such incidents of others cutting the Mayor while she spoke became increasingly often in 2022, shortly after Priya was elected. "Because the Mayor was new at the time, chairpersons would cut in and speak when questions about procedural delays or previously completed works were raised." Such incidents have now decreased, although the Deputy Mayor continues to do so. Even during the October meeting, the Deputy Mayor began answering before the Mayor. "When he did that, she became enraged and asked the next councillor to begin speaking over the Deputy Mayor," the CPI(M) councillor noted.
Previously, in August 2023, video clips and images emerged showing DMK's ex-MLA Ranganathan forcing the Mayor to face the camera while campaigning for the Erode by-elections, and allegedly brushing up against her at Dheeran Chinnamalai's memorial function. Despite claims of caste discrimination and sexual harassment levied by netizens and media outlets, the DMK took no action against him.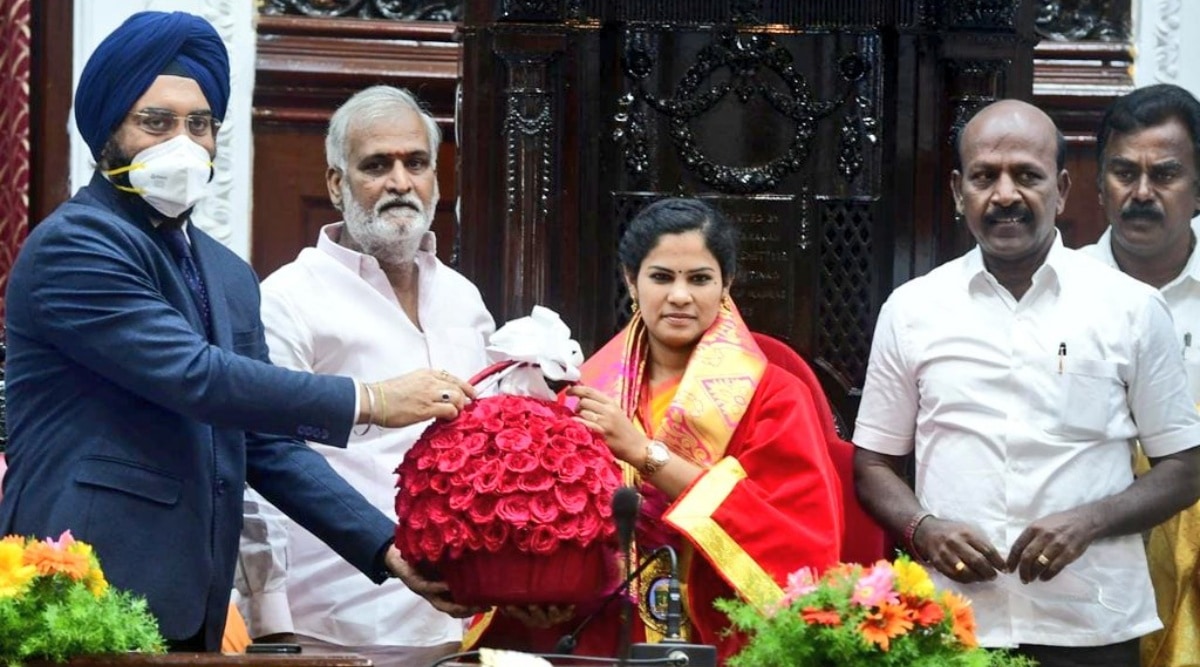 Priya's plight is not unique, as several female politicians have been victims of sexist marginalisation. In Kerala, for example, when IUML legislator KM Shaji remarked in 2019. That West Bengal is strong despite being ruled by a woman (referring to Mamata Banerjee). Ex-Health Minister KK Shailaja famously asked, "What's different if a woman is in power?", insisting that Shaji's demeaning remark be removed from the Assembly records.
Similarly, while visiting sexual harassment accused KK Kuhnalikutty in 2019, Kerala CPI(M) senior leader Vijayaraghavan 'cautioned' Dalit Congress MP Ramya Haridas, implying that as a woman she will always be considered as an object. In 2022, BJP MP Chandrakant Patil instructed NCP MP Supriya Sule to "go home and cook," highlighting the fundamental sexist mindset that women are destined to cook while males are destined to undertake important work.
It is crucial to remember that women currently make up. Approximately 15% of the Lok Sabha and 13% of the Rajya Sabha. A similar trend exists in several state legislatures. Even with the Women's Reservation Bill taking effect in the coming years. The amount to which women can express the power granted to them by the law remains to be seen. Given the merciless patriarchal frameworks they must navigate.
In September of this year, the DMK aggressively backed the Women's Reservation Bill. Which seeks to provide women 33% of the total seats in the Lok Sabha, state assemblies. And the Legislative Assembly of the National Capital Territory of Delhi. However, the party's Mayor, an elected female representative, is subjected to sexism in the council chamber on a monthly basis.