The action drama 'RRR' directed by SS Rajamouli which stars Ram Charan, Jr N TR, Alia Bhatt, and Shriya Saran. This has become a topic of discussion for many and gained huge box office profits since its release.
The fictional tale set in the 1920s succeeded in winning the hearts of cinema lovers through the action-packed scenes as well as the narrative. Which is a part of the real-life event of two freedom fighters. The remarkable contribution of these two freedom fighters against the British rule. For their community is lesser-known to the present generation.
This is a fiction story about two Indian revolutionaries, Alluri Sitarama Raju (Charan) and Koamaram Bheem (Rama Rao). Who fought against the British Raj.
Also Read: A Tamil Nadu Boy Buys His Dream Bike Worth Rs.2.6 lakhs In Rs.1 Coins
Alluri Sitarama Raju
An Indian revolutionary who waged an armed against British Colonial in India. Born in Andra Pradesh. Involved in an anti-British activities, in response to the 1882 Madras Forest Act.
Rising discontent towards the British led to the Rampa Rebellion of 1922. Which he played a major part as a leader. With force combined with Adivasis, farmers, and sympathizers to their cause.
Engaged in guerilla campaigns against the British colonial authorities in the border regions of the Madras Presidency. His nickname is "Manyam Veerudu" which mean hero of the "Jungle for the local villagers".
Eventually, in 1924, he was trapped by the British at the village of Koyuru in the Chintapalle forests. There, he was captured, tied to a tree, and summarily executed by a firing squad. His resting place currently lies in the village of Krishnadevipeta.
Komaram Bheem : 
Komaram Bheem, also called Kumram Bheem. He was a revolutionary leader in British India from the Gond Tribes. Bheem in association with other Gond leaders and communist revolutionaries led a protracted low-intensity rebellion. Against the feudal Nizams Of Hyderabad and the British Raj in  1930.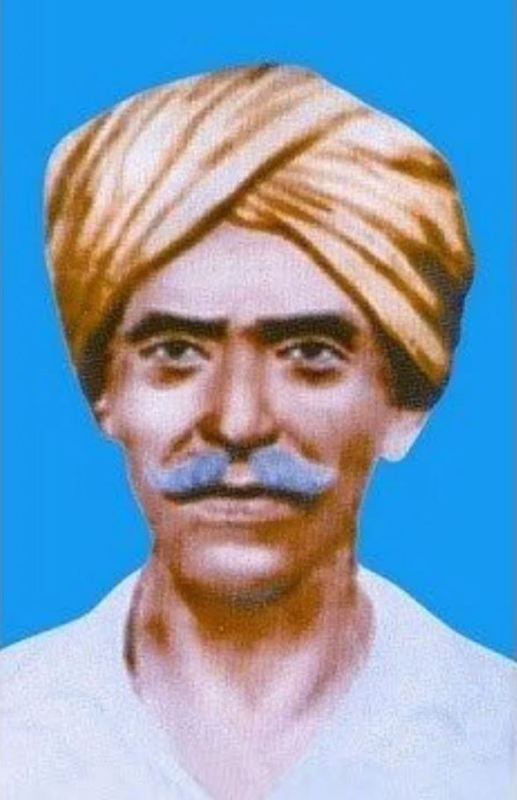 Later he was killed by armed policemen in 1940. Subsequently, he is a symbol of rebellion and eulogized in Adivasi and Telugu folklore. Bheem is knows a pen in Gond culture.
Famous for his slogan Jal, Jangal, Zameen. Which means Water, Forest, Land. Which symbolizes a sentiment against encroachment and exploitation. Acquired by the Adivasi movements as a "call to action". And is close with the Telangana Statehood.