The veteran filmmaker, actor, and director took his last breath today, May 3, 2023. The actor passed away at the very young age of 69. Following which, the entire film industry has been awake since morning. Mano Bala was undergoing liver treatment in a private hospital in Chennai.
As per the reports, the actor was in the hospital for 10 days. While his mortals will take place in his house located in Saligramam. However, the final rites dates have yet to be disclosed. In 1979, Mano Bala started his acting career as an assistant director along with Bharathiraja in Puthiya Vaarpugal.
Later, he directed over a dozen films, which include Pillai Nila, Aagaya Gangai, Sriai Parvai, Mera Pati Sirf Mera Hai, and Oorkavalan. His last project was "Naina," which was directed in 2002. In the last two decades, he has appeared in more than 200 movies. Mano Bala last appeared in a Tamil horror comedy movie along with Kajal Aggarwal.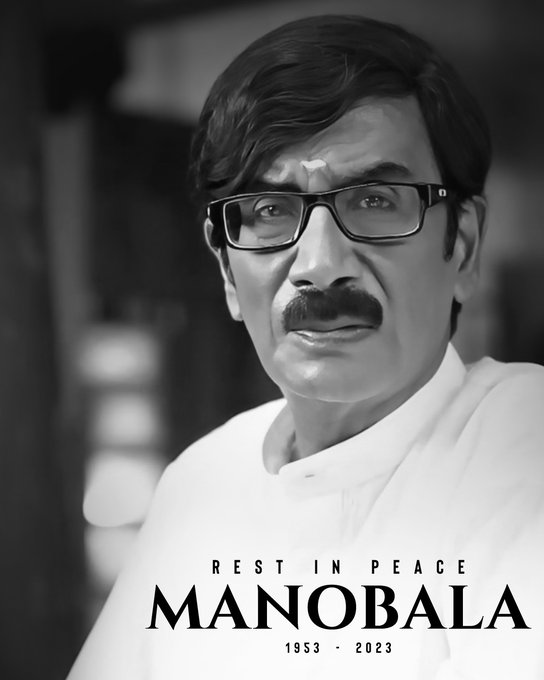 While the news of his death has broken the hearts of the entire film industry and fans,
Veteran actor Rajnikanth remembers his dear friend Mano Bala and tweets,
பிரபல இயக்குநரும், நடிகருமான, அருமை நண்பர் மனோபாலாவுடைய இறப்பு எனக்கு மிகவும் வேதனை அளிக்கிறது. அவருடைய குடும்பத்தினருக்கு என்னுடைய அனுதாபங்கள். அவரது ஆத்மா சாந்தியடையட்டும்.@manobalam

— Rajinikanth (@rajinikanth) May 3, 2023
This star will be remembered for decades. not only for his acting but also for his assistance and directory work. He will be praised for going from being nothing to becoming a sought-after comic actor.
The death of Mano Bala is a great loss for the entire film industry. Insydfeed and the entire industry will remember and pray for the entire family and loved ones. May Mano Bala's soul rest in peace.
It is sad to know that he will no longer be part of Lokesh Kanagaraj's upcoming film "Leo". The movie will be led by Thalapathy Vijay.