---
Enthusiastic and die-hard fans take special pains to watch their celebrities play live. In a similar incident, it's FIFA Season now. As we see Football fans across the world have flown to Qatar to watch live matches. Specially to watch Lionel Messi and Cristiano Ronaldo as it is their final world cup.
Meet Najira Noushad, a passionate fan of Lionel Messi. As she decides to travel in her SUV from Kerala to Qatar. As a result, she drove almost 2900 kilometers to watch the FIFA World Cup.
Najira Noushad's Family
A 33-year-old Najira Noushad, is a homemaker hails from Kannur. Also, popular as Naajinoushi mom traveler on social media platforms. She currently lives in Oman with her husband and 5 children. However, she wanted to start her journey from her hometown, Thalassery in Kannur. 
The 2973 Kilometer journey
Najira didn't want to fly like everyone else and wanted to stand out. However, she drove 2973 kms in her Mahindra Thar to reach Qatar. 
In her statement she mentioned, "I drove through Calicut, Kochi, Coimbatore, Salem, Bengaluru, Hampi, and Pune to Mumbai". "From Mumbai I will be flying to Oman while my vehicle (named Olu, meaning girl in Malayalam) will be shipped across. I will continue my drive from there through Dubai to Qatar" 
Starting off at 6am on most days, she drives around 600 kms on daily basis. Adding to this she says, "Sometimes I drive at night too. I really enjoy the calm". 
On daily basis, she takes a break around 11am, where she prepares a quick meal for herself, like puttu, upma or ghee rice. And the backside of the car is well filled with cooking appliances, groceries and a bed. As she sees her car as house on wheels.
Najira aspires to inspire other women to travel without fear and uncertainty. Although, with this trip, she wishes to send a message to the world "There is safety for women to travel anywhere in the world." 
So, take a look at the mindful responses from her Instagram followers.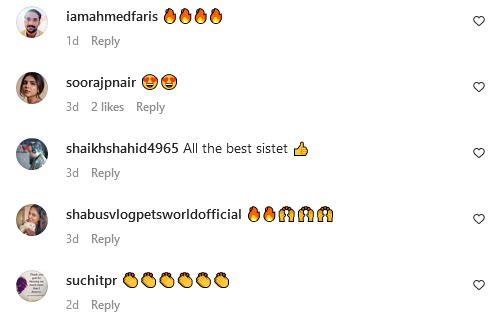 Najira Noushad is a huge Lionel Messi fan. And she was there to watch Argentina play against Poland on 1st of December. 
More power to such influencers. So, let us know your favorite football player in the comments.