While winter is round the corner and people in Chennai cannot survive if the temperature goes lower than usual. There is this one shop that always saves our lives by offering a great winter collection in Chennai. People across Chennai usually visit Joonus Sait & Sons also known as the Wollen House in Rattan Bazaar near Parrys to pack their travel bags. 
Joonus Sait & Sons was started by Hajee Ibrahim Sait in 1905. Today the shop is run by Usman Sait, a 62 year old man along with his sons. The shop was started by people who migrated from Bellary, Karnataka during typhoid and cholera outbreak 117 years ago.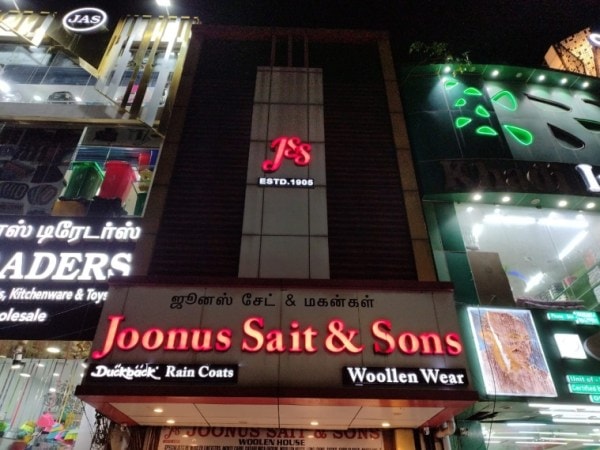 Usman says,

There is huge demand for winter clothes in chennai. People here cannot bear it if the temperature gets below 20 degrees. Products like Woolen socks, sweaters and mufflers are purchased for infants. People not only buy while traveling abroad to places like Canada, Europe and Russia. But they visit this famous store to buy winter clothes even to go to Ooty, Kodaikanal and Shimla.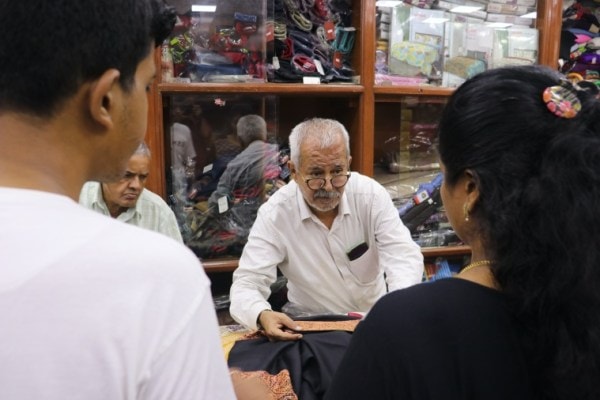 While Joonus Sait & Sons was the first store to introduce Raymond franchises in the city. They now sell some international brands such as Gadoni, Monte Carlo, Casa Blanca, Gadoni, and Long Johns. They also market brands like Real Rainwear, Duck Band, and Reliable Rainwear. Because these materials are lightweight and suit the weather conditions in the city.
All the products in the store are priced at a fixed rate. As they believe losing one customer is equal to losing 100. Customers are served based on the needs and not by the intention of making any profit or cheating the customer. 
People have always visited this shop for generations. Some get their children while others come along with their grandchildren. The relationship in this shop is more of a family than a buyer and a seller. Usman recalls how they never got a chance to sit in the shop during his fathers time. However after 45 years of hard work, today he sits at the cash counter while his sons, Nou Maan Sait and Safwaan Sait take care of the shop.
Joonus sait & sons not only operates in Parrys but also in Adyar and Purasawalkam. Other stores are managed by the usman's wife and son. Now the shop will soon be expanded to Anna nagar and old Mahabalipuram road.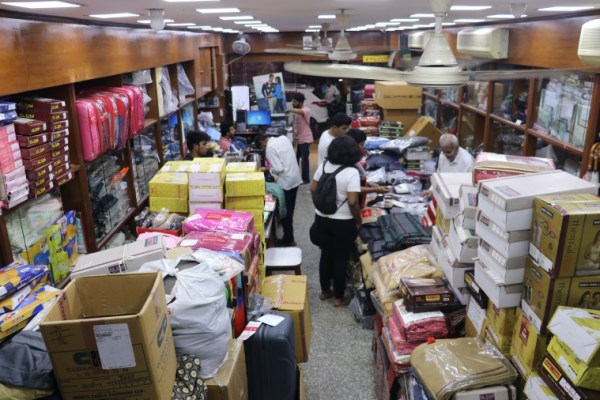 Apart from selling winter clothes they also do tailoring services. They stitch clothes for advocates and robes for judges from Madras High Court. One unique thing about this store is they pick the best products from Mumbai and Ludhiana's manufacturing units. 
Hope you visit the store and share your experience with us.