The mass movie of Thala will forever remain in our hearts was released on 2011 August 31. It's hard to believe that it has been 10 years already.
This movie set the trend of the 'Salt & Pepper' hairstyle. And to be honest we all did love watching people flaunt their all-natural hair and saying 'Oh, even Thala did it'
Bravo! The second trendsetter was Thala's famous chain and its locket in the movie. It sure was a delight to the eye. On this occasion of the 10th anniversary, Vasuki Bhaskar told us an interesting fact behind the chain.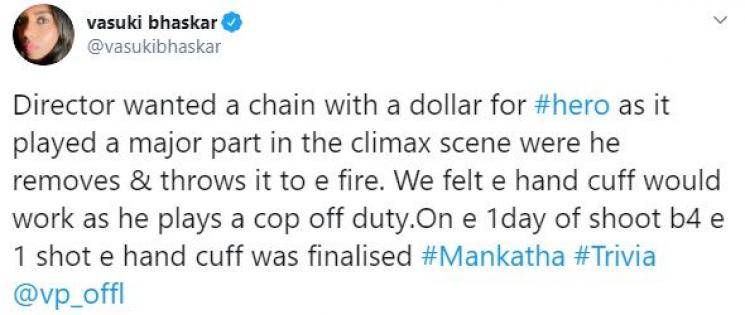 In simple words, she meant…
Director wanted a chain with Dollar for the hero as it played a major part in the climax scene where he removes and throws it into the fire. We felt the hand cuff would be better as he played the cop off duty. On the first day of shoot before the first scene, the handcuff was finalised".
well, it sure was a delight to watch. Moreover, now fans are wanting a sequel to the movie. Will we ever get to witness it, stay tuned for more reports!