Chennai is famously known for its vast coastlines of serene beauty alongside the bay of Bengal, which offers a collection of exotic plates of seafood, a foodie can ask for. Right from the exotic fancy themed restaurants to millennial favorites, Namma Chennai is blessed with everything. 
One can find the best variety of seafood dishes, according to their taste and budget. Here are some of the best places to binge some of the scrumptious seafood in Chennai.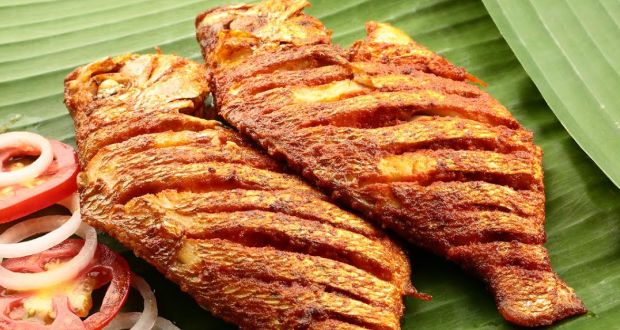 1) The Marina
As the name suggests, The Marina got its name from the longest urban beach of Chennai's Marina Beach. The Marina serves the best catches of fresh fishes from the coromandel coast daily.
The Marina has been named as one of the best places to indulge your taste buds for seafood. One shouldn't miss the 'Red Snapper' or 'Karimeen in a Mango Curry', a signature dish that tastes heavenly. Other dishes from Tandoori prawn to the Creamy lobster are some of the favorites among the people. delicately prepared 
The ambiance is unique with a huge aquarium set up, which makes you feel like dining inside an ocean. The menu in Marina is a rockstar, you can find all your favorites in one place. An interesting thing about The Marina is, we can select any type of fish live from the counter and have it cooked in a way we want. 
Where: 39, College Road, Nungambakkam, Chennai. 
How Much: INR 1200 approx for two people. 
2) Kuttanad Restaurant
Kuttanad Restaurant, known for its Kerala delicacy of variousChettinad dishes is often preferred for its pocket-friendly and tasty seafood. The staff offers a friendly and great service to its customers. The place is often filled with foodies indulging in their favorite seafood. 
The place offers flavorsome Chettinad fish curry to karimeen pollichathu, which are heavenly. A succulent spicy crab masala, a signature dish followed by a fish roast in a pepper masala, that is mostly preferred by the foodies. 
Where: Adyar, Chennai. 
How Much: INR 800 approx for two people. 
3) Thoondil, The Family Restaurant
Thoondil Restaurant is one of the best places on East Coast Road, which offers a wide range of seafood dishes, right from the famous squid fry to pomfret pepper fry. 
These seafood dishes are traditionally prepared with the homemade quality of Chettinad spices and flavors which enriches the tastes of the dishes. 
The restaurant is placed in a huge lush-green garden, with old-fashioned yet elegant furniture. Outdoor seating arrangements are available. Thoondil has the best lip-smacking variety of seafood. It is the best suitable spot for family and friends. 
Where: 19A East Coast Road, Panaiyur, Chennai. 
How Much: INR 800 approx for two people. 
4) Fisherman's Fare
As the name implies, Fisherman's Fare is a place where you can relish eating seafood with an Indian, Arabian twist. The main cuisine served is seafood. Varieties of seafood are served, among them tops the fried fish with hot chilli sauce, which is super tasty and spicy. Overall, Fisherman's Fare is a great place to explore and eat seafood dishes. 
Where: 24, Casa Major Road, Egmore, Chennai.
How Much: INR 900 approx for two people.
5) Sundari Akka Fish Kadai
Who isn't familiar with Sundari Akka Kadai?. The small eatery is famous all over Chennai for its collection of seafood dishes. It is owned by the legendary Sundari Akka itself, who started this small eatery stall/Kadai with just a few kitchen equipments. 
Situated alongside the beach, you can avail fresh seafood right from the ocean. The shop/Kadai is famous among the Chennaites. It is often compared to other restaurants located across ECR. One shouldn't miss the spicy squid fry, madras fish curry that is slowly cooked with homemade spices and the secret ingredients, which remain a mystery. The place is budget-friendly and offers a lot of seafood. 
Where: Marina Beach, Chennai. 
How Much: INR 300 – 400 approx for two people. 
6) Nair's Mess
One of the oldest places for the authentic Kerala delicacy, Nair's Mess is a must-visit place for seafood lovers, where you can relish eating the tastiest fish fry, prawn fry, and famous vanjaram seer fish fry, which has been an eminent dish in the menu for many years.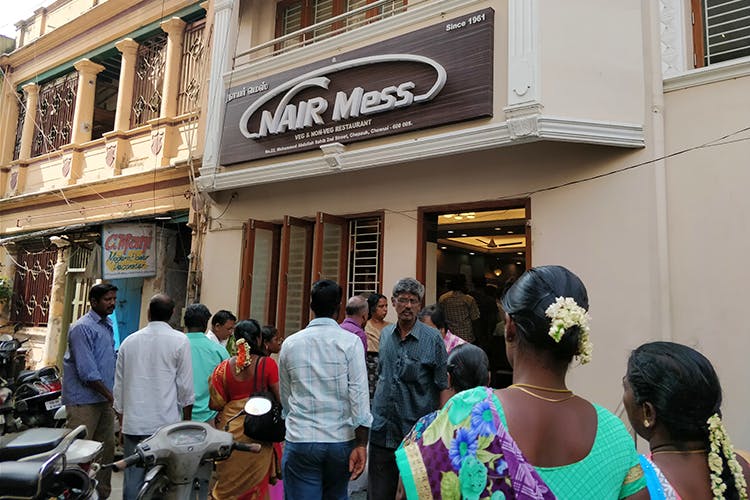 The vanjaram fish fry with a slice of lemon eaten along with rice will delight you with its flavors. You can spot the waiters /staff bustling with menu and orders for their customers since this place never stops to slow down during the prime time. 
Where: 22, Mohammed Abdullah 2nd Street, Opposite of  Chepauk Stadium, Triplicane, Chennai. 
How Much: INR 200 approx for two people. 
7) Jonah's bistro
Jonah's  Bistro offers a modern-day kind of seafood for the food fanatics. The place is hit among the youngsters and seafood fanatics with a twist of ingredients in the dishes. The fusion of seafood pasta in pesto sauce and the fish calamari simmered in finger-licking butter sauce and grilled kingfish in curry sauce tops are some of the signature dishes. The place offers a cozy and comfortable seating with a greenery view. Jonah's Bistro is a worth-a-try place if you love experimenting with food. 
Where: New 9, 2nd Avenue, Besant Nagar, Chennai. 
How Much: INR 1000 approx for two people 
8) Savoury Sea Shell
Savoury Sea Shell is widely spread out in almost many areas in Chennai. Although the restaurant specializes in Arabian dishes like shawarma and kebabs, it also serves lip-smacking seafood dishes ranging from the fish kebabs to fish fry in Arabian style. The seashell offers casual dining with ambient lighting and exotic food variants. 
Where: Multiple Outlets in Chennai, 391/1, Old Mahabalipuram Road, Perungudi, Chennai. 
How Much: INR 800 approx for two people. 
9) Palmshore Restaurant
The Palmshore restaurant serves the best prawn biryani in the city which shouldn't be missed at any cost. The restaurant offers Mughalai foods, North Indian, and seafood varieties in a buffet style. The seafood is prepared in Mughalai style, and the ambiance is beautifully designed, opt for casual family dining. You can avail discounts on seafood combos. 
Where: Jawaharlal Nehru Salah, Ashok Nagar, Chennai. 
How Much: INR 800 approx for two people. 
10) Amma's Chettinadu Restaurant
Amma's Chettinadu Restaurant is a place which offers the best succulent crab masala in the whole of Chennai, it is a perfect combo of authentic flavors and Chettinad masalas. The seafood dishes are stylishly presented which attracts the customers. The place is often crowded with visitors due to its Chinese, Chettinad preparations. The restaurant serves the tastiest south Indian seafood dishes at a reasonable price. 
Where: Giri Road, T Nagar, Chennai 
How Much: INR 800 approx for two people. 
Other seafood joints like Fish Bone, AnnaNagar, Coastline in Alwarpet, Hotel Naagai Meenavan in Teynampet, Kattumaram Seafood in Madipakkam, and many others offer the best seafood in the city. Being blessed with such an excellent coastal line, Chennai has an abundant bounty of seafood.